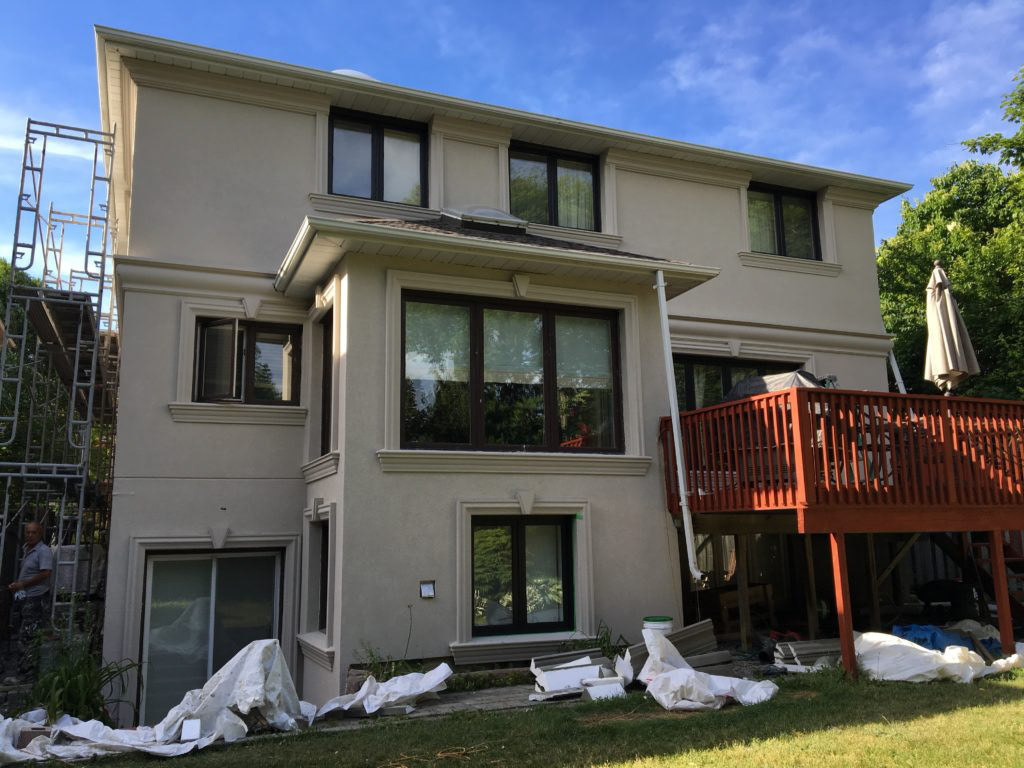 Exterior Insulation Finishing Systems (EIFS) offers great advantages over many exterior wall cladding systems, simply for it's ability to replicate almost any architectural style with it's wide variety of creative options, and offers a cost effective, energy efficient solution to property owners. EIFS has been a prominent wall cladding system in Canada for over a 30 years and has been developed into a sophistaced system that allows for extremely low amounts of moisture penetration, which is why it has become a popular exterior finish, even in colder climates like ours.
    Not only can EIFS be very attractive; from a building science perspective, EIFS is definitely one of the better insulation systems out there. Imagine your entire house being wrapped in a thick, insulating foam leaving absolutely no room for any thermal bridging. That's essentialy how an Exterior Insulating Finshing System works. Traditional batt insulations installed in every single stud cavity will cover a large surface area, however, will leave every single stud in the entire structure exposed and it becomes a gate for heat flow. EIFS keeps the entire structure in a constant temperature and makes it less susceptible to cracks forming due to temperature swings.
    An Exterior Insulating Finishing System could be the best wall cladding system you can have for your next project. However, EIFS is a complex system and it's important to choose the right contractor to install it. Poor workmanship and inability to follow buildings codes by improper applications of flashings and water resistive barriers (WRB), can cause EIFS to perform poorly. Uygur Stucco has performed EIFS applications all through out the Greater Toronto Area for more than 10 years, playing a key role in transforming Toronto into a greener, beautiful, energy efficient city. We have the expertise to help you make the right decisions on how to go about your next project.